Services
Pharmacy Services
The AU Health pharmacy team is here to help with your individual medication needs.
Retail Pharmacy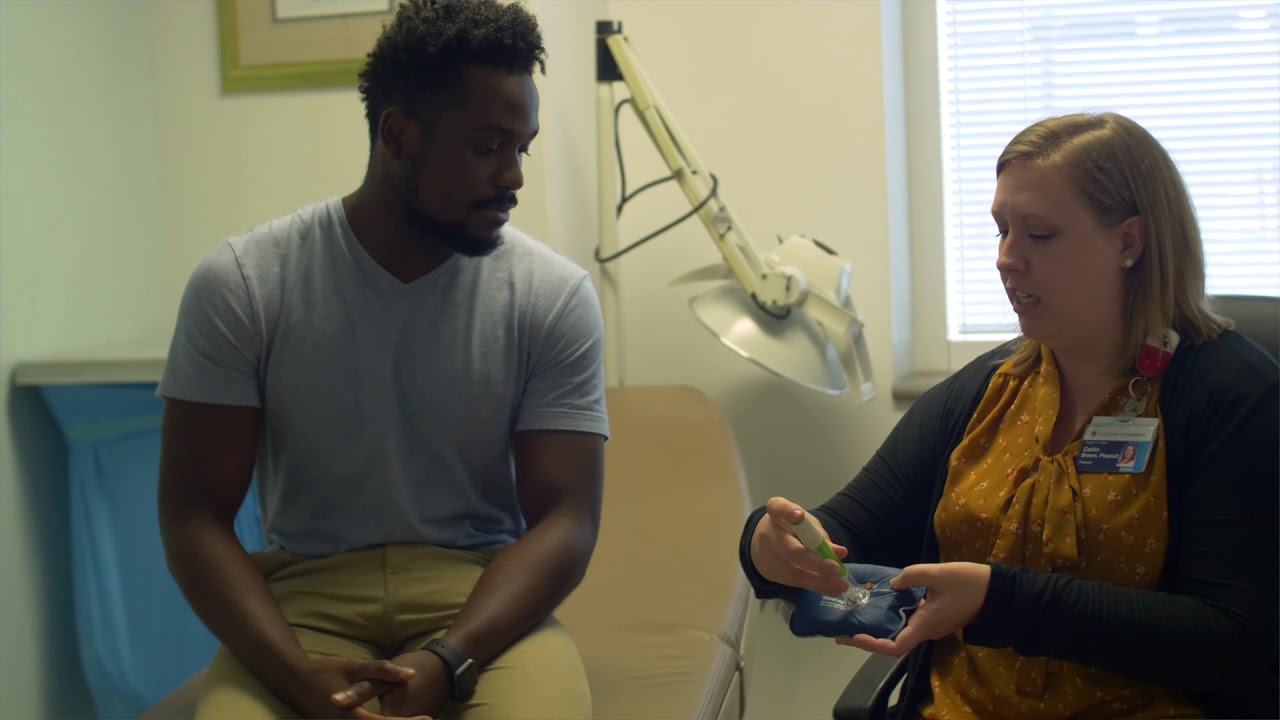 Our medications cost about the same as other local pharmacies. Additionally, our friendly staff would be happy to schedule the medications that you routinely take and remind you when you're due for a refill. We also offer over-the-counter medications and immunizations.
Inpatient: Augusta University Health is the only hospital in the area whose pharmacy offers bedside delivery.
Outpatient: If you have an appointment in the hospital or medical office building and need medication, you can save yourself the hassle of making another stop on your way home by picking up your medications after your appointment, before leaving our facility. The wait time is short.
Need to transfer or refill a prescription?
To transfer a script from your retail pharmacy, please call or email our pharmacy, and provide the following information:
Prescription number
Pharmacy name
Pharmacy contact number
Retail Pharmacy Information
Two locations to serve you!
Children's Hospital of Georgia (2nd floor)
BT 2601
Monday - Friday: 8 am - 8 pm
Saturday - Sunday: 8 am - 6 pm
Call 706-446-1234 for more information

Medical Office Building (1st floor)
Monday - Friday: 8 am - 6 pm
Call 706-446-5832 for more information
Specialty Pharmacy
Our pharmacists specialize in complex medication regimens and disease states. We work alongside your physicians to optimize your drug therapy. Through our personalized approach to care and condition-specific expertise, we are here to provide you with the support you need to meet your health care goals.
We take pride in educating our patients to the fullest extent and will work with you to ensure you are taking your medication as prescribed as well as address any questions or concerns you might have.
Specialty prescriptions are available for pickup in the retail pharmacy.
Employee Pharmacy
The Employee pharmacy serves all Augusta University and Augusta University Health Employees as well as outpatients of the community and hospital.
Employees can call or email their prescription refills to the employee pharmacy and pick them up at the location above. Credit cards and HSA benefit cards will be accepted. No personal checks or cash, please.
The employee pharmacy offers special discounted rates on over-the-counter items each week while supplies last.
Call the employee pharmacy to set up automatic refills for your prescription.
Employee Pharmacy Information
Located in the Professional Office Building One (First Floor)
Suite 1600
Call 706-723-0900 for more information
Prescription Process
Referral for New Patients/Prescriptions
Once we receive a prescription from your healthcare provider, the pharmacist will review your medical history on file and ensure that it is appropriate therapy for you. After performing a benefits investigation, we will determine if you are eligible to use our pharmacy services. Once your eligibility has been confirmed, we are able to fill your prescription. You are welcome to contact the pharmacy at any time to ensure we have received your referral/prescription. 706-446-1234, press option 2 and option 2 again.
Timing
Prescriptions are typically processed the same day they are received. Prior to filling your prescription, we may need to obtain prior authorization from your insurance company or co-pay assistance from the drug manufacturer. Prior authorizations and co-pay assistance may cause a delay in receiving your medication. Once insurance approval is obtained, and/or co-pay assistance has been approved, we will inform you of the total out-of-pocket cost and have your prescription ready onsite as soon as possible. If this is the first time you've filled the medication with our pharmacy, a pharmacist will reach out to you when the prescription is ready for pick-up or delivery.
Pick-up/Delivery
All prescriptions are available for pick-up in the AU Health Retail Pharmacy located on the second floor of the Children's Hospital of Georgia. Should you live within a 35 mile radius of the hospital, we are happy to set up delivery to your place of residence free of charge. Should you live more than 35 miles away within Georgia or South Carolina, we are able to ship your medication via FedEx free of charge. Please note that a signature is required upon receipt for both courier and FedEx deliveries.
Refills
A member of our pharmacy team will reach out to you approximately 7 days prior to your next fill being due. Should you have a therapy change or need a refill early, please contact the pharmacy at 706-446-1234, press option 2 and option 2 again. If your refill needs to be shipped via FedEx, it will go out on the next business day. Please note, no FedEx shipments are processed on Friday. Should you wish to utilize our courier service, it will be scheduled on the next available delivery date for your location.
Prescription Status Update
To check on your prescription status, please contact the pharmacy at 706-446-1234, press option 2 and option 2 again.
Emergency/Disaster Preparedness
If you experience a medical emergency, call 911 immediately.
In the event of a natural disaster or other emergency that requires you to leave your home:
Take at least one week's worth of your medication with you. If the medication requires special storage (ex. needs to be refrigerated), please transport appropriately using a cooler with ice and make arrangements for proper storage once you reach your destination.
Inform the pharmacy of your location and contact information as soon as possible.
Should a natural disaster be projected which might impact shipping to your area (ex. hurricane), we will work with you to ship medications to another acceptable location to avoid interruptions in therapy.
If you think you will be impacted by a natural disaster, contact the pharmacy at 706-446-1234, press option 2 and option 2 again to discuss your prescription needs.
Should you need urgent care from a specialty pharmacist regarding your therapy after normal business hours, please contact the AU Health operator at

706-

721-0211 and ask them to page the specialty pharmacist on call. The pharmacist should return your call within 30 minutes. If you do not receive a call, please call the operator again and ask to have the previous page repeated.
Prescription Substitutions
Prescription substitutions can take two forms: generic substitution and therapeutic substitution. In a generic substitution, a generic drug is substituted for a brand name drug. However, both drugs have the same active chemical ingredient, same dosage strength, and same dosage form. Therapeutic substitution occurs when a pharmacist substitutes a chemically different drug for the drug the physician prescribed but one that is in the same pharmacologic and/or therapeutic class. Our pharmacy will never perform a therapeutic substitution for your prescription. We will dispense a generic substitution in place of the brand name medication if your prescriber allows it on the prescription. Sometimes your insurance company might mandate that the generic product be dispensed in place of the brand name product or vice versa. You have the right to request a brand name or generic medication and we will make every reasonable effort to accommodate that request. However, please remember that sometimes we are bound by insurance requirements to dispense a particular product.
Transferring Your Prescription
Should there be a pharmacy network limitation with your insurance company or the specific drug you need, we will notify you and your provider and transfer the prescription(s) to the appropriate pharmacy.

If you decide to use a different specialty pharmacy, we are happy to have a new prescription sent there for you. Please contact the pharmacy at (706) 446-1234, press option 2, option again and provide us with the pharmacy name and phone number where you would like your prescription transferred.
Obtaining Medications Unavailable at AU Health
While we make every effort to maintain access to as many drugs as possible, occasionally we are unable to provide the necessary medication. In the event we are unable to dispense a medication, we will notify you and your prescriber and have the prescription sent to the appropriate pharmacy.
Medication Recalls
When medications are recalled, the manufacturer, lot number, and expiration date are reported in the recall. Our pharmacy will be notified of the recall and we will review our records to see if that particular medication was dispensed. In the event the medication was dispensed to you, you will receive a phone call from a team member as soon as possible. Please never abruptly discontinue a medication unless you are advised to do so as this can be harmful in some cases.
Medication Disposal
Should you longer need to take a medication or it expires, it is best to dispose of them immediately. Medicine that has expired may not work as well and/or it may no longer be safe to use. Do not use or keep medicine that has expired or you do not need. This can help prevent other people or animals from ingesting medications that aren't meant for them. A medication can be helpful to the person it was prescribed for but it can cause serious problems if it's used by someone else or an animal. There are a few acceptable options for medication disposal:
Bring the medication to a take-back program or drop-off box. Please visit the DEA website to determine your nearest drop off location. (This is the best option.)

If there isn't a take-back program or drop-off box near you, call the pharmacy at 706-446-1234 (option 2, option 2) to determine if it is safe to dispose of in your household trash. If so, follow these steps:

Take the medicine out of the container it came in. You can throw the container away but first scratch out any personal information printed on the label. This will help protect your identity and health information.

Mix the medicine with a substance that doesn't taste good, such as cat litter, sawdust, or coffee grounds. Don't crush tablets or capsules.

Place the mixture in some other container, such as a sealed plastic bag or can.

Put that container in your household trash. If it is a plastic container please note on the outside of the container "do not recycle" using a permanent marker.

Never flush or pour unused medications down a sink or drain.
Adverse Reactions
An adverse reaction is any unwanted, uncomfortable, or dangerous effect that a person has in response to a drug. If you experience an adverse drug reaction, you should call the pharmacy 706-446-1234, press option 2 and option 2 again or your doctor right away.
Signs of an allergic reaction are, but are not limited to: difficulty breathing, chest tightness, a rash or hives, swelling of the mouth or throat.

Call 911 or have someone drive you to the nearest emergency room if the reaction appears serious or life-threatening.
Reporting Concerns/Medication Errors
Augusta University is committed to maintaining an environment of open, honest communication. If you need to make a report, the Office of Compliance and Enterprise Risk Management for Augusta University can be reached toll free 1-800-576-6623 or online.
Board of Pharmacy
Georgia Board of Pharmacy
2 Peachtree Street, Atlanta, GA 30303
phone: 404-651-8000, open Monday – Friday 8am - 5pm
South Carolina Board of Pharmacy
110 Centerview Dr #306, Columbia, SC 29210
phone: 803-896-4700, open Monday – Friday 8:30am - 5pm
Augusta University Medical Center Retail Pharmacy is accredited through Accreditation Commission for Health Care.
ACHC-1-855-937-2242
Pharmacy Locations
Inpatient Pharmacy
1481 Laney Walker Blvd.
Professional Office Building One, Suite 1400
Augusta, Georgia 30912
Georgia Cancer Center Pharmacy — Laney Walker
1411 Laney Walker Blvd, AN2600
Augusta, Georgia 30912
Georgia Cancer Center Pharmacy — Downtown
818 St Sebastian Way Suite 400
Augusta, Georgia 30901
Medical Office Building Pharmacy
1120 15th Street BP-1220
Augusta, Georgia 30912
Community Pharmacy
1120 15th Street, BT-2601
Augusta, Georgia 30912
Employee Pharmacy
1481 Laney Walker Blvd. Suite 1600
Augusta, Georgia 30912
Community Pharmacy Georgia Cancer Center Downtown Clinic
818 St. Sebastian Way Suite 402
Augusta, Georgia 30912
West Wheeler Infusion Clinic Pharmacy
1220 West Wheeler Pkwy 2nd Floor Suite B
Augusta, Georgia 30909
Our Providers
Augusta University Medical Center specialists provide care and support throughout your entire healthcare journey.
Generated by random
Resources & Tools
Here are a few helpful resources to guide your next steps