Obstetrics
Obstetrics includes diagnosis and treatment of pregnancy, which involves prenatal care, labor and delivery and postpartum care.
Obstetrics
Obstetrics includes diagnosis and treatment of pregnancy, which involves prenatal care, labor and delivery and postpartum care.
Pregnancy and your experiences leading up to it may leave you feeling many different emotions ranging from joy and excitement to fear and anxiety. You deserve an expert team that is dedicated to making your pregnancy and birthing experience not only healthy and safe but also joyous and memorable.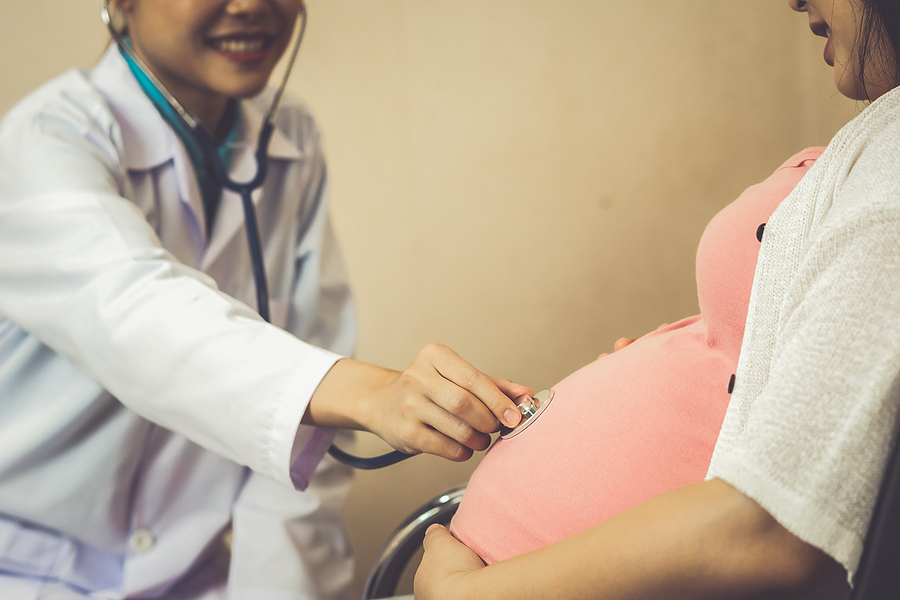 Why Choose Us
As an expectant mom, you have a lot to consider about the future of yourself and unborn baby, and that begins with the obstetric, or pregnancy, care you receive. As Augusta's River Region's only academic obstetrics program, we strive to make the decision regarding the care you receive an easier one. We offer:
Expert high-risk pregnancy and neonatal care: Hospitals across Augusta's River Region and beyond trust us with their most complicated high-risk pregnancy cases. Our maternal-fetal medicine specialists serve moms and babies from 23 counties that surround Richmond County.
Highest-level NICU: Our adjoining Children's Hospital of Georgia (CHOG) houses Augusta's River Region's only Level IV neonatal intensive care unit (NICU). If your baby needs intensive care after birth, rest assured that you and your baby would remain under the same roof.
Obstetric emergency care: We offer Augusta's River Region's only obstetric emergency department dedicated to providing treatment for complications that arise from 20 weeks of pregnancy through six weeks after delivery. Our 24/7 expert care takes into account both patients, moms and unborn babies, for the best health outcome possible.
Certified nurse-midwives: We are the only health center in Augusta's River Region with practicing midwives. Depending on your wishes, you may choose a midwife to deliver prenatal care and participate in your labor and delivery.
Collaboration: Our obstetricians partner with other Augusta University Health specialists across multiple fields of medicine. They meet daily with specialists from anesthesiology, maternal-fetal medicine, nursing, social work and case management and collaborate with specialists from neonatal and pediatric care at CHOG.
Clinical trials: We are always working to find better ways to help more moms and babies breastfeed successfully.
Pregnancy Conditions We Treat
Most pregnancies are low-risk, meaning both the mom and baby are healthy, and neither is experiencing any known health conditions that could complicate the pregnancy. High-risk pregnancy, on the other hand, occurs when the mom, baby or both are experiencing a health condition that could complicate the pregnancy and lead to problems.
If you're experiencing a high-risk pregnancy, then your obstetrician will refer you to a maternal-fetal medicine specialist for additional specialized care. Your obstetrician will partner with this specialist on closely monitoring the health of you and your baby.
Sometimes individuals experience problems with a pregnancy that cause it to come to an untimely end. We treat:
Ectopic pregnancy, or a tubal pregnancy, when an embryo implants outside the uterus, such as in the fallopian tube, ovary or cervix
Miscarriage, when an embryo or unborn baby dies before 20 weeks of pregnancy
Stillbirth, when an unborn baby dies after 20 weeks of pregnancyUrinary incontinence
Obstetric Services
It's normal to approach pregnancy, childbirth and the following weeks with a number of questions and expectations. Our obstetricians are here to guide you through the process and understand your concerns and wishes.
We offer the full range of obstetric care you'll need from finding out you're pregnant through delivering your baby and beyond.
Prenatal care
During the course of your pregnancy, you'll receive ongoing prenatal care, which includes checkups and tests. It's important for the health of you and your baby that you stay on top of your prenatal care and follow the care plan your obstetrician designed for you.
Checkups typically occur once a month through 28 weeks of pregnancy, twice a month for weeks 28 through 35 and weekly from week 36 through delivery. During these visits, your obstetrician will examine you, check your blood pressure and weight and your baby's heart rate and growth, and perform necessary laboratory tests.
Prenatal tests allow your obstetrician to check your blood type and Rh factor and look for anemia, infections and signs that you're immune to certain diseases. They will also offer additional tests, such as screenings for diabetes during pregnancy, Down syndrome and human immunodeficiency virus (HIV).
We also offer breastfeeding counseling through our board-certified lactation consultants and obstetric emergency care in case complications arise after 20 weeks of pregnancy.
Labor and delivery
We realize that you may have concerns and preferences about labor and delivery. We strive to make childbirth as safe, comfortable and memorable for you as possible while taking into consideration your wishes. We offer:
Vaginal delivery, which may involve certain instruments, such as forceps or a suction to guide your baby through the birth canal
Cesarean section, also called c-section, when vaginal delivery isn't possible — for example, if your baby isn't positioned with their head down, is too large to move through the pelvis or is in distress
Vaginal birth after cesarean, also called VBAC, for women who qualify based on certain factors, such as the condition of the scar on their uterus from previous cesarean sections
Pain management through our obstetric anesthesiologist and anesthesiology team that is dedicated to helping you feel as comfortable as possible during childbirth by using pain medications and anesthesia if you wish
Postpartum care
The postpartum period begins immediately following childbirth and lasts six weeks. During this time, a woman's body readjusts to its nonpregnant state while she adjusts to her new role of caring for a newborn baby. We offer:
Mother Baby Couplet Care during your hospital stay to encourage you to spend as much time with your baby as possible so you can learn their feeding and sleeping habits and bond
Breastfeeding support through our board-certified lactation consultants who will help you and your baby breastfeed during your hospital stay and after you go home
Checkups typically within three weeks of giving birth and again within 12 weeks for a pelvic exam, postpartum depression screening and treatment, and discussion about birth control options
Obstetric emergency care in case complications arise within six weeks after delivery
Support services
When you're navigating major life changes, such as having a baby, you deserve all the support you can get. We offer:
Nutrition counseling through our certified dietitians to prevent and treat certain conditions, such as diabetes during pregnancy and hyperemesis gravidarum
Classes, including labor and delivery tours, breastfeeding and infant CPR classes, and car seat safety and Cribs for Kids classes offered through Safe Kids Greater Augusta
Support groups to help those who are navigating motherhood and breastfeeding
Free access to educational resources through HealthClips
Prenatal patient education in English and Spanish to help you understand what to expect from your first prenatal visit through pregnancy and bringing your baby home
Our Obstetricians and Midwives
Our board-certified obstetricians and certified nurse-midwives offer compassionate care and are dedicated to the health and wellbeing of moms and babies. Midwives are licensed healthcare professionals who specialize in women's reproductive health and childbirth and provide exams and write prescriptions. They assist our obstetricians at our Medical Office Building, Grovetown and Jefferson County locations, as well as in labor and delivery and in our obstetric emergency department.
Our Providers
Augusta University Medical Center specialists provide care and support throughout your entire healthcare journey.
Generated by 74
Resources & Tools
Here are a few helpful resources to guide your next steps