Stroke Care
The Advanced Comprehensive Stroke Center at Augusta University Medical Center delivers highly skilled and responsive stroke care to patients to save lives and prevent disabilities.
Stroke Care
The Advanced Comprehensive Stroke Center at Augusta University Medical Center delivers highly skilled and responsive stroke care to patients to save lives and prevent disabilities.
About
A stoke can happen when blood flow is stopped to the brain, stroke falls into 3 main categories:
Ischemic Stroke: A stroke caused by a blockage or narrowing of the artery supplying blood to your brain. A blood clot can either form in your brain (thrombotic) or it can break off and travel there from another part of your body (embolic).
Hemorrhagic Stroke: A stroke that occurs when a blood vessel bursts.
Mini-stroke: Also called a transient ischemic attack (TIA), is a warning that a major stroke could occur.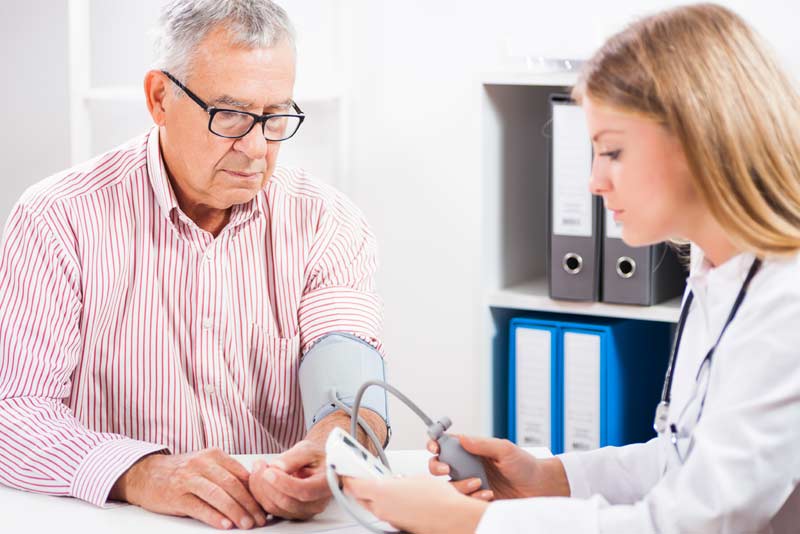 Why Choose Us
If you are having a stroke, you'll want to be seen at Augusta University Health's Comprehensive Stroke Center as soon as possible. Our hospital is home to nationally recognized stroke experts who diagnose and treat the most complex and difficult stroke cases using:
Multidisciplinary care: You will be taken care of by a team of board-certified stroke specialists who collaborate with nationally renowned neurosurgeons who are dual trained in both open and endovascular surgeries.
Advanced technology: We have the area's only Angiography Suite where we can identify and treat problems with blood vessels in the brain.
Emergency Department (ED) access: Come to our ED if you think you are having a stroke, a skilled emergency team will respond quickly and efficiently to stabilize you and get you to our Stroke Center.
REACH Call: Augusta University Medical Center neurologists have developed a nationally recognized telemedicine program that connects Augusta University Health specialists to participating rural hospitals 24/7.
Neurocritical Intensive Care Unit: Providing patients access to 20 Neurocritical ICU beds, supervised by board-certified neurocritical care physicians.

Interventional Stroke Care Program: We offer the area's only program designed to prevent strokes before they happen. Interventional care depends on the type of stroke and the time patients arrive at our hospital and is done in the neuro-cath lab.

Rehabilitation: Inpatient and outpatient rehabilitation services by skilled physical, speech and occupational therapists
What is a Comprehensive Stroke Center
Augusta University Health offers tremendous advantages for the most severe stroke and cerebrovascular patients. We are one of the few select healthcare systems with an Advanced Comprehensive Stroke Center designation by the Joint Commission on the Accreditation of Health Care Organizations.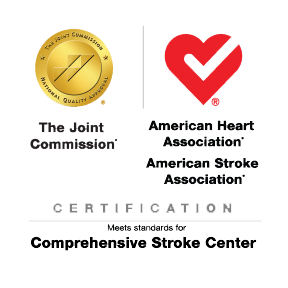 Accreditation
We have been recognized nationally with The Gold Seal of Approval® in health care attaining advanced certification by The Joint Commission and American Heart Association /American Stroke Association (AHA/ASA).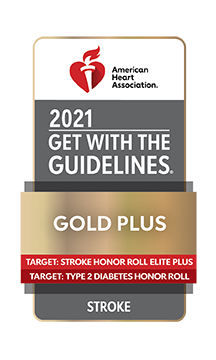 Award Winning Care
Get With The Guidelines® Stroke: Gold Plus, Target: Stroke Elite Plus Honor Roll, Target: Type 2 Diabetes Honor Roll
Get With The Guidelines® puts the unparalleled expertise of the American Heart Association and American Stroke Association® to work for hospitals nationwide, helping ensure the care provided to patients is aligned with the latest research-based guidelines based on the latest scientific evidence.
Conditions We Treat
Stroke is complex and can happen for many reasons. Our surgeons are experts in the diagnosis and treatment of:
Aneurysms/ruptured aneurysms, when the wall of the artery becomes weak and could, or does, burst.
Atherosclerosis, a buildup of plaque in the carotid artery that can block blood flow to the brain.
Intracranial and cervical venous stenosis, are conditions in which there is a narrowing or blocking of blood flow through the veins.
Moyamoya disease, a rare condition that causes blood vessels in the brain to narrow.
Pulsatile tinnitus, a condition, where you can hear in your head, the rhythmic sound of blood pulsing.
Sickle cell vasculopathy, a blockage in the arteries to the brain due to inflammation from Sickle Cell Disease
Vascular malformations of the brain, such as arteriovenous malformations (AVMs), are abnormal clusters of veins and arteries that can tangle together and affect blood flow.
Tests and Procedures
As part of the Neuroscience Center of Excellence, our board-certified and fellowship trained neurosurgeons are dual trained in both open and endovascular surgical techniques.
Diagnostics
Diagnostics are an important part of stroke care. Surgeons use diagnostic angiography to evaluate a patient's blood vessels for carotid stenosis, aneurysms and arteriovenous malformations (AVMs).
Nonsurgical procedures
The Gamma Knife Center doesn't actually use a "knife", instead it uses stereotactic radiosurgery technology (radiation beams), a noninvasive procedure, to treat blood vessel abnormalities like arteriovenous malformations (AVMs).
Surgical procedures
Neurovascular and Endovascular surgery is performed inside the blood vessel using small incisions and a tiny catheter to remove clots, stop bleeding, or stabilize a vessel, these include:
Embolization: A procedure to block off where bleeding is happening; used for ruptured aneurysms and vascular malformations of the brain.
Revascularization procedure: To restore blood flow to the brain; used to treat moyamoya or sickle cell vasculopathy.
Carotid artery stenting: This closed surgical procedure is typically done in interventional radiology or the neuro-cath lab, where a flexible metal tube is inserted to keep the carotid artery open.
Some surgical procedures require larger incisions in order to treat vascular problems:
Surgical removal of plaque (endarterectomy): Performed in our OR to remove buildup in the carotid artery.
Open vascular surgery: Neurosurgeons perform open surgery for more complex stroke cases, such as ruptured aneurysms and difficult brain vascular malformations.
Support services
Your stroke care doesn't end after your surgery is over. We continue to provide additional support to help you get back to your life with:
Medical social workers
Case managers
Stroke-trained registered nurses
APPs (advanced practice providers)
Licensed dietitians
Neuropsychologists
Physical therapists
Occupational therapists
Speech therapists
Patient Resources
Strokes are a leading cause of death and disability in people across the country. That's why we strive to educate our community, patients and their families through preventive outreach programs about stroke.
BROCHURE
Explaining Stroke
Stroke Recovery
Learn how to help your loved one recover from a stroke. Get more information
Educational Posters
Stroke Complication Rates
While rare, stroke complications can occur during your treatment and care.
Stroke Complication Rates in patients
Let's Talk about Stroke
We offer the following information from the American Heart Association/American Stroke Association for patients to download and educate themselves and others about stroke.
Our Providers
Augusta University Medical Center specialists provide care and support throughout your entire healthcare journey.
Generated by 14