Stroke Care
Our Approach
The experts in the Augusta University Medical Center Advanced Comprehensive Stroke Center deliver skilled, responsive stroke care that can save lives and prevent disabilities. Accredited by the Joint Commission on Accreditation of Healthcare Organizations, the program is staffed by nationally renowned stroke specialists.
Why Choose Us
As one of only a few select healthcare systems with the Advanced Comprehensive Stroke Center designation by the Joint Commission on the Accreditation of Health Care Organization, Augusta University Health offers tremendous advantages for the most severe stroke and cerebrovascular patients.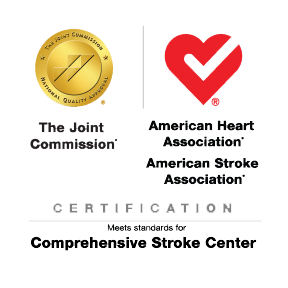 Accreditation
Augusta University, located in the heart of the Stroke Belt, received the Gold Plus Quality Achievement Award from the American Heart Association/American Stroke Association.
Diagnostic Tests and Procedures
Board-certified and fellowship trained specialists at Augusta University Health's Neuroscience Center provide expert care, including:
Advanced technology, including a state-of-the-art angiography suite to identify and treat problems with blood vessels in the brain
Specialized stroke care by a team of stroke specialists who collaborate with one another and other caregivers
The area's only interventional care to prevent and treat strokes
Fast, accurate and leading-edge Emergency Department care
REACH Call, a nationally recognized telemedicine program developed by Medical Center at Augusta University neurologists that connects Medical Center at Augusta University specialists to participating rural hospitals 24/7
Endovascular care, including embolization for ruptured aneurysms and brain vascular malformations
Surgical removal of plaque and carotid artery stenting
Open vascular surgery for ruptured aneurysms and brain vascular malformations
Nationally renowned neurosurgeons that are dual trained in both open and endovascular techniques
Revascularization procedures for diseases like moyamoya or sickle cell vasculopathy
Gamma knife treatment for brain vascular malformations
A Neurocritical Care Unit supervised by neurologists and neurosurgeons
Inpatient and outpatient rehabilitation services by skilled physical, speech and occupational therapists
Support services by caring medical social workers, licensed dietitians, psychologists and neuropsychologists
Preventive and educational outreach services
Our Providers
Augusta University Medical Center specialists provide care and support throughout your entire healthcare journey.
Generated by 14