Services
Neonatal and Pediatric ECMO
We are one of only two Neonatal and Pediatric ECMO programs in the state.
About
Extracorporeal Membrane Oxygenation, or ECMO, is a treatment for critically ill infants and children that keeps their hearts and lungs working by providing oxygen to the blood. This acts like an artificial heart-lung bypass, for a period of days or weeks, to allow a child's lungs and/or heart to recover.
Why Choose Us
The Children's Hospital of Georgia is a pioneer in Extracorporeal Membrane Oxygenation technology and was home to the Southeast's first ECMO program. Since our program began in 1985, our team has cared for more than 625 infants and children.
Today, we remain one of only two Neonatal and Pediatric ECMO programs in the state. There are two teams that provide ECMO at CHOG. Both teams consist of specialists and physicians who are trained in Neonatal or Pediatric Critical Care Medicine. ECMO is available 24/7, and is performed in either the Neonatal (NICU) or Pediatric (PICU) Intensive care Units depending on the age and diagnosis of the patient. These highly trained teams are able to care for up to 4 patients simultaneously who require this intense, lifesaving therapy.
Extracorporeal Membrane Oxygenation therapy can be complicated and stressful for families. Because we believe in Patient-and-Family-Centered care, we take time to explain the ECMO program to include how ECMO works as well as the benefits and possible complications. As a team we are available 24/7 to answer questions and help patients and families understand every aspect of treatment.
For more details, you can download the Parents Guide to ECMO.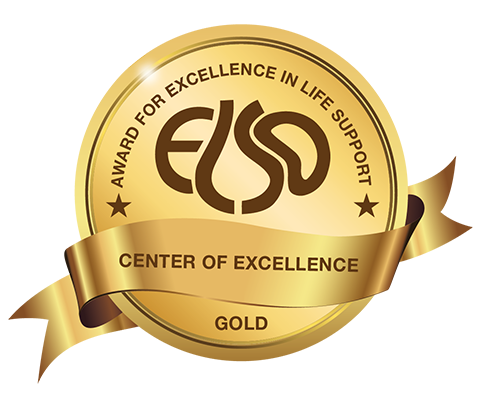 Award Winning Care
The team at the Children's Hospital of Georgia is not only unique in the state, but has also continuously earned the Gold Award for Excellence in Life Support from the Extracorporeal Life Support Organization (ELSO) since 2006.
U.S. News and World Report and Parents magazine recognizes the ELSO Award as criteria for top pediatric hospitals.
Our Providers
Augusta University Medical Center specialists provide care and support throughout your entire healthcare journey.
Generated by random
Resources & Tools
Here are a few helpful resources to guide your next steps