Become a Kidney Transplant Patient
Become a Kidney Transplant Patient
Before Your Transplant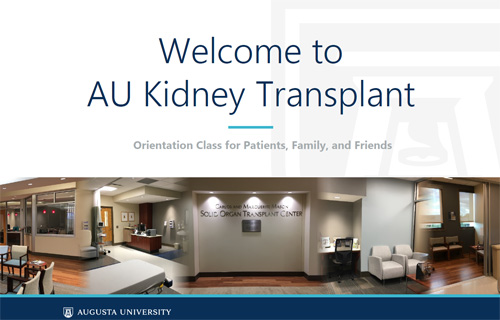 What to expect
Your nephrologist (or dialysis center) will send a referral for your kidney transplant to our Solid Organ Transplant Center. We will then contact you, ask several questions about your medical history, and schedule your transplant evaluation.
Step 1: Your transplant evaluation
During your first visit, you will receive educational material explaining the transplant evaluation, surgical procedure, risks, benefits, and requirements for maintaining a healthy organ. You will then:
Complete initial lab testing
Complete radiology and cardiology testing
Meet members of your multidisciplinary team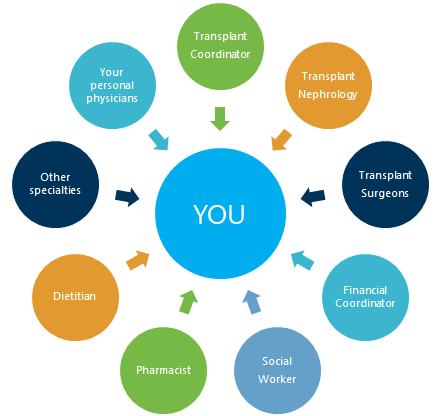 Step 2: Complete additional testing
Your transplant coordinator will assist with completion of additional testing needed to ensure you are healthy enough to receive a transplant. This can include:
Health screening
Specialized testing
Step 3: Determination of candidacy
The team will then meet to decide if you are an eligible transplant candidate. They will also decide if there is any additional testing needed.
Step 4: Prepare for transplant
You will be added to the National Deceased Donor Transplant list. While waiting for your transplant, you have certain responsibilities, these include:
Maintaining contact with your transplant coordinator and notifying us of any changes in your health, insurance, or contact information.

Ensuring you have a support person and plan for transportation to the hospital.

Remaining current with health maintenance testing.
Continuing your work-up for living donor transplant, if you have a living donor.
Transplant Surgery
Living Donor Transplant
Having a kidney from a living donor allows you to get your transplant quicker than if you had to wait on a donor list. Some things to know:
Living donor transplant surgeries are scheduled around the recipient and donor's schedule.
Both the recipient and donor will complete pre-operative testing at the hospital a few days prior to the surgery. This includes any final testing to ensure both patients are healthy enough for surgery and that the donor organ is compatible with the recipient.
Both the recipient and donor will be admitted to the hospital the morning of surgery.
Deceased Donor Transplant
Patients who are active on the national waiting list should be ready for transplant call at all times. It is vitally important that you are reachable by phone any time of day.
When a kidney becomes available, you will receive a call from one of our transplant coordinators. The transplant coordinator will discuss details of the organ offer with you, as well as ask several questions about your recent health history.
If you choose to accept the organ, and (based on available information) the transplant team deems the organ to be suitable, then:

The transplant coordinator will give you and your support person enough time to travel safely to Augusta University Medical Center.
You will be admitted to the transplant floor for final testing and possible surgery.

Before surgery, several tests will be performed to ensure you are healthy enough to receive the transplant and the organ is compatible with you.

If any problem is found concerning your health, or if the crossmatch shows you are not compatible with the donor, you will be sent home.
If your testing is acceptable to the surgeon and your crossmatch shows you are compatible with the donor, you will be taken to surgery.
Your Transplant Surgery
Kidney transplant surgery takes approximately 4 hours. The donor kidney is surgically attached in the front of your body, near the pelvis and bladder. Your native kidneys (the ones you have now) are not removed.
Ideally, the kidney will begin working immediately in the operating room and start producing urine once blood flow is established. In some cases, the kidney may experience slow or delayed graft function and take some time to work normally.
The usual hospital stay is around 4-5 days and patients are generally up and moving the day of surgery.
A stent is placed between the kidney and bladder to ensure proper healing of the transplanted ureter. The stent is non-surgically removed approximately 4 weeks after transplant.
After Transplant
Initially, you will be followed by the transplant team at the Solid Organ Transplant Center here in Augusta. After a few months, you will have the option of being seen in one of our satellite clinics (see all of our transplant service locations.) This makes it easier to continue to see your primary nephrologist and receive much of your follow-up care closer to home.
Your post-transplant team includes:
Transplant nephrologists
Nurse practitioners and physician assistants
Post-transplant coordinators
Pharmacists
Dietitians
Social workers
Clinic scheduler
Patient Resources
Learn about transplantation, organ allocation, and outcomes:
UNOS (United Network for Organ Sharing)
OPTN (Organ Procurement Transplantation Network)
SRTR (Scientific Registry of Transplant Recipients)
Learn about available financial assistance resources:
Learn about living kidney paired donation: