Radiation Therapy Center
The Department of Radiation Oncology provides exceptional patient care using the latest technologies in delivering state-of-the-art radiotherapy with an innovative and personalized approach to treating cancer.
Radiation Therapy Center
The Department of Radiation Oncology provides exceptional patient care using the latest technologies in delivering state-of-the-art radiotherapy with an innovative and personalized approach to treating cancer.
Why Choose Us
Every year, patients from across the country - and the world - come to AU Health's Georgia Cancer Center for treatment of both common and rare cancers. Our Radiation Therapy Center has fellowship-trained radiation oncologists who provide personalized Patient- and Family-Centered Care to every patient.
Advanced radiation technology
The radiation therapy team uses the most advanced radiation therapy technology in the area, with highly-skilled clinical professionals specially trained to use this technology to diagnosis and treatment of cancer.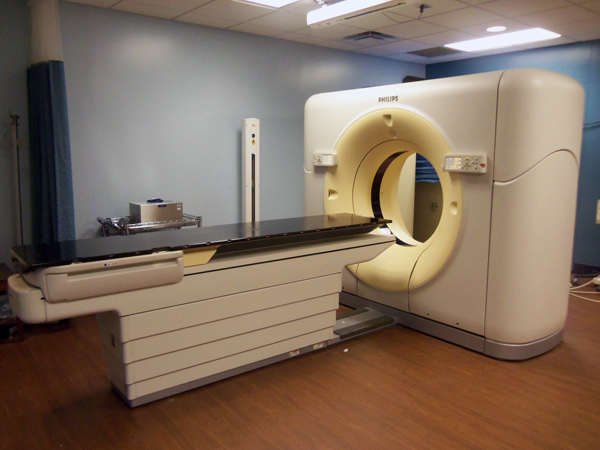 Philips Brilliance Big Bore CT Simulator
The Philips CT Big Bore Simulator is designed to meet the needs of radiation oncology, focusing on accuracy, patient positioning, imaging performance, and intuitive workflow.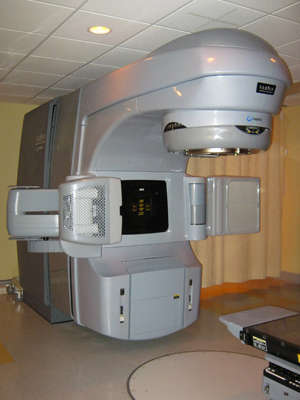 Varian's Trilogy Medical Linear Accelerator
A medical linear accelerator (LINAC) customizes high energy x-rays or electrons to conform to a tumor's shape and destroy cancer cells while sparing surrounding normal tissue. It features several built-in safety measures to ensure it delivers the dose as prescribed and is routinely checked by a medical physicist to ensure it works properly.
Varian's Edge: Delivers precise doses of radiation to tumors of the lung, brain, spine, and other areas of the body. Using Edge, our team is able to precisely calculate patient movement in all six degrees of freedom and monitor respiratory motion.
Leksell Gamma Knife Perfexion: Today, cranial radiosurgery with Perfexion is performed in hundreds of leading hospitals and clinics around the world. Preferred for its extreme accuracy, efficiency, and outstanding therapeutic response.
Nucletron Microselection High Dose Radiation Remote Afterloader Unit: Performs brachytherapy treatments by using applicators and catheters to drive a very small radiation source from a shielded safe location inside the afterloader directly into, or next to, the tumor.
Conditions We Treat
We specialize in the careful treatment of many types of cancer, including:
Breast cancer
Central nervous system (brain and spinal cord) cancer
Gastrointestinal (including the liver and kidney) cancer
Gynecologic malignancies

Head and neck malignancies

Prostate cancer
Pediatric cancers
Thoracic malignancies (including lung cancer)
Other cancers, (such as skin, eye, lymphoma, myeloma, and melanoma)
What to Expect
Our goal is to aggressively treat your cancer while allowing you to be able to continue with as normal a lifestyle as possible during and after radiation therapy treatments. Throughout your radiation treatment, you will be evaluated weekly (or more frequently) by your radiation oncologist.
Radiation therapy is administered through different methods depending on the type of cancer you have, the location of the cancer, and your health. Sometimes, radiation therapy is used in combination with other treatments.
Some of the different types of radiation therapies we offer:
External radiation (external beam therapy)
With external radiation, radiation is administered by a large machine that points the energy waves directly at the tumor. The radiation therapist controls the machine. Since radiation is used to kill cancer cells, special shields may be made to protect the tissue surrounding the treatment area.
Intensity Modulated Radiotherapy (IMRT): an advanced mode of high-precision radiotherapy that uses computer-controlled linear accelerators to deliver precise radiation doses to a malignant tumor or specific areas within the tumor.
Rapid Arc Technology: Volumetric Arc Therapy (VMAT) or RapidArc® Radiotherapy Technology is an advanced form of IMRT delivering a precisely sculpted 3D dose distribution. Unlike conventional IMRT treatments, during which the machine must rotate several times around the patient or make repeated stops and starts to treat the tumor from a number of different angles, VMAT / RapidArc can deliver the dose to the entire tumor in a 360-degree rotation, typically in less than two minutes.
SBRT/SRS (Stereotactic Body Radiation Therapy/Stereotactic Radio-Surgery): a treatment that delivers high does treatments in five or less fractions to small tumors using highly accurate, precise and focused radiation delivery.
3-D Treatments: Uses targeted (CT/MRI/PET/CT) information to treat the tumor only and spare any healthy tissues. By using other imaging to aid in treatment planning, a higher dose can be delivered directly to harmful cells while reducing the amount that any healthy structures would get.
Internal radiation (brachytherapy, implant radiation, systemic radiation)
With internal radiation, a high dose of radiation is given inside the body as close to the cancer as possible. The radiation treatment may be swallowed, injected, or implanted directly into the tumor. Some of the radioactive implants are called seeds or capsules. Internal radiation involves administering a higher dose of radiation in a shorter time span when compared with external radiation. Some internal radiation treatments stay in the body temporarily; other internal treatments stay in the body permanently, although the radioactive substance loses its radiation energy over time.
Treatment Process
Although each hospital may have specific protocols, radiation therapy usually begins with these procedures:
Simulation process: After a physical examination and a review of your medical history, your treatment team maps out the position you will be in for each treatment and the exact location on your body (referred to as treatment field or port) where the radiation will be given. Sometimes, the area on your body that requires treatment will be marked to make sure radiation is given properly. The treatment team may also make molds, headrests, or other devices that help to position you during your treatment. Imaging studies, such as CT scans or MRI scans may also be performed during the simulation process to help plan how to direct the radiation during your treatments.
Treatment plan: Once the simulation process is completed, the radiation oncologists work with the medical dosimetry team to determine your treatment plan, including the type of machine to use, the amount (dose) of radiation needed, and the number of treatments that will be given. Unlike open surgery, this is non-invasive and performed completely outside the body without touching the skin. Planning usually occurs during the time after your simulation and the start of your treatment.
Your Care Team
Our staff is made up of the largest team of radiation therapy experts including radiation oncologists, nursing staff, radiation physicists, medical dosimetrists and radiation therapists. We employ only board-certified radiologic technologists, a higher standard than the state of Georgia requires, who specializing in radiation therapy.
Nursing Team
Our staff is composed of registered nurses, licensed practical nurses, a certified medical assistant, social worker, registered dietitian, and a physician assistant that guide you throughout your time with us at radiation oncology. Our nurses team up with physicians to provide the highest level of individualized care to our patients. You will meet your personal radiation oncology nurse at the time of initial consultation and will continue this partnership throughout the course of your radiation treatment and at follow-up visits. During the course of radiation treatments your nurse will:
Evaluate you weekly (or sometimes more frequently).
Answer questions you may have regarding your care.
Provide you with information about your specific diagnosis and radiation therapy
Help manage any side-effects you may experience.
Provide emotional support to you and your family, and offer other resources for assistance.
Medical Dosimetrists
The Radiation Therapy dosimetry team is comprised of four Board Certified Medical Dosimetrists (CMD). The team works collaboratively to provide customized treatment plans for each patient served using Varian's Eclipse Planning System. They also instruct and mentor the students within the growing Augusta University Radiation Therapy Program.
Additional Team Members
Radiation Oncologists
Radiation Physicists
Radiation Therapists
Our Providers
Augusta University Medical Center specialists provide care and support throughout your entire healthcare journey.
Generated by 79